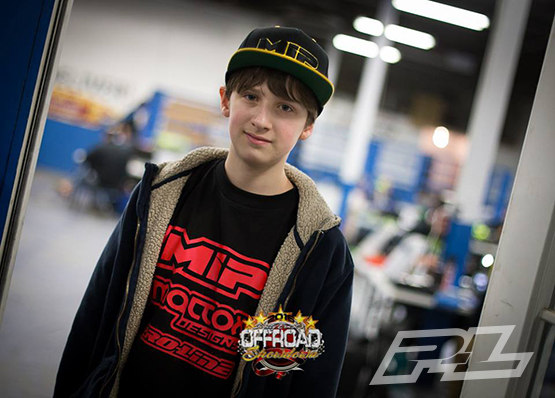 This young 13 year old talent is turning heads with his amazing control, speed and consistency in the 4WD SC class as he resets his TQ in round 2 leaving everyone else playing catch up. With 1 more round to go, William Piper is looking to lead the field in the single 7-minute A-Main event.
Congratulations to William as he dedicates his spectacular performance to his sister Ava, who is battling cancer. Our hearts and prayers are with you Ava.
William ran Pro-Line M4 Electrons to take the win!
What a weekend was had at the Scotty Ernst Off-road Showdown! Our first such event! We arrived Friday and got to work on his rides. By early afternoon we had practice well underway and it was good to run in all kinds of traffic on this track which is a bit tight and twisty. Surface is clay and a bit cold, so M4 Pro-Line Electrons were hooking up nicely on both the XRay XB44 4×4 Buggy and MIP Pro4mance SCT.
Saturday brought our first 2 rounds of qualifying. The Pro4 was awesome and just got faster as the day went on and the surface came in. The Buggy got tangled in traffic in the sweeper in the first round and broke out, but William put on a stellar performance in the second round and made up 24 positions putting us 5th in the Amain in Buggy and TQ in Pro4! A good start to the event!.
Race day was great, We had another great run with the Pro4, but we got into the marbles with the buggy,and tubed it breaking an arm and ended up with P7. The main in Pro4 went as expected with our team mate giving us a hard fought battle on the track. That was fun to watch!…. In buggy, the crew chief messed up with tire prep giving the driver too much traction…it took a few laps to settle down, but with the stacked field, the damage was done, and we brought home 9th.
Both of our rides ran on Pro-Line Electrons in M4, and rather ghosted as that seemed to work well that weekend
We both would like to thank our sponsors, MIP for the best 4×4 SCT on the planet,
Pro-Line for the best tires for all our rides,
Hobbywing for powering all our rides, and Mattox Design for keeping it all looking great! Lastly, a special shout out to Scotty Ernst, and R/C Excitement for such a great event. It was a pleasure.
– Team Piper