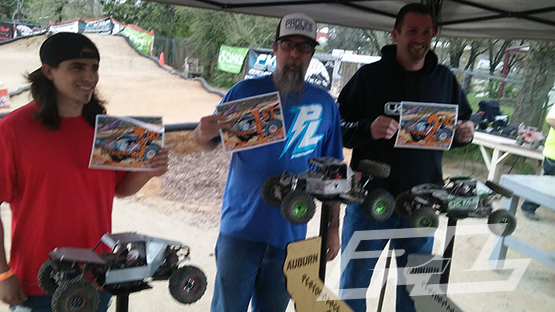 Race #2 "Hammer in the Foothills" held was a success. Another great day of at Racing at Auburn Performance Raceway.
Started the day of with a rough heat 1 in the 1.9″ Trophy class with a broken front drive line. Next was the Yeti Pro where I took a first in heat 1 time for the Mains where the 1.9″ Trophy Rig took the top spot for the day running the Flat lron XL's. Next was the 2.2″ Yeti where I was making my why though the field when I sheared a bolt off on the steering witch took me out. Ran Pro-Line 2.2″ BFG KR2's on the Yeti
Still a great day racing with Pro-Line, the best Tires and Shocks on the market.
A huge thank you to our Sponsors, Racers and volunteers. Everything ran really smooth today. The weather held off just long enough to for us to finish racing.
Here Are the podium finishers from today's U4RC race.
1.9 Trail limited: 1st Mike Maxwell,2nd Kyle Russ, 3rd Ken Harmon.
1.9 Trail Pro: 1st Daniel Ramirez , 2nd Michael Pham, 3rd Anthony Ramirez .
1.9 IFS: 1st Michael Pham, 2nd Ed Duco, 3rd Gene Boyd .
1.9 Trophy: 1st Dan Wilson, 2nd Tony Mazza, 3rd Daniel Ramirez.
2.2 Comp Pro: 1st Ben Harmon, 2nd Tony Mazza, 3rd Anthony Ramirez.
2.2 Yeti Pro: 1st Michael Pham, 2nd place Gene Boyd, 3rd Tyler Boss.
2.2 Trophy: 1st Johnny Stephens, 2nd Tony Mazza, 3rd Max Brokaw.
Thanks,