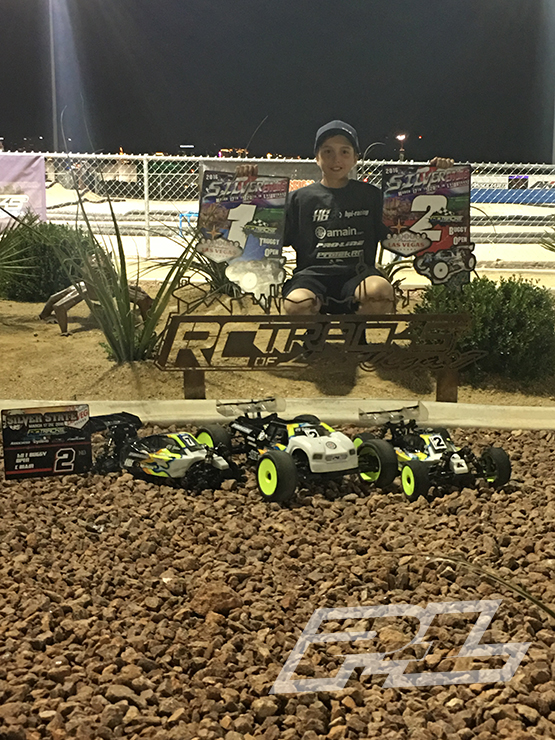 This past weekend I attend the 2016 Sliver State at RC Tracks of Las Vegas.
I ran Open E-Buggy, Open Nitro Buggy, and Open Nitro Truggy.
I would like to first of all thank Kevin Palmer for all his hard work this weekend and Mark Schroeder for all the help as well. Also the Tessmann's for all the setup help and everything in between.
Ran Pro-Line Electrons in E-Buggy, Pro-Line Fugitives in Nitro Buggy, and Pro-Line Blockades in Truggy
Now into the racing…
Thursday was practice, my cars were amazing all day long and I was felling confident .Friday and Saturday was qualifying, my D815E, D815, and D8TTE were amazing all day long driving on the high bite surface at Sliver State.
My qualifier's went amazing in all my cars, in E-Buggy, I was 7th in the C-Main, Open Nitro Truggy 2nd , in the A-Main, and Open Nitro Buggy, 2nd in the A-Main. Saturday after qualifying the lower mains, started and I had to run my E-Buggy Main because it was one of the lower mains the start of my e buggy main went well there was some super fast pros in my class but my d815e with Hobbywing power did awesome , I was top 5 for the first couple laps and stayed in the top five for the rest of the race and almost passed 4th at the end but finished 5th Sunday was the higher Mains.
In the A-Main warmups my cars were good In the Truggy A-Main I started 2nd and tried to pass too early for the lead and I went to 5th or 6th place but soon found my way back to the top three.I found myself closing on first place, with 8-minutes left to go, I passed for first place and finished there.In my buggy A-Main, I started in 2nd place. After a couple laps into the 30-minute A-Main, I was in 4th place but got up to 2nd and passed first. But during my first pit stop I flamed out. I went back to forth I made a hard drive to get back into second and stayed in second for the rest of the a main and finished there.
I would like to thank my sponsors HB HPI Racing, Pro-Line, Amain.com, Protekrc, Hobbywing, Vp Racing Fuels, OGIO, Maddox Designs , Reds Air Brush Designs, Hooked Tire Sauce
– Kevin Palmer