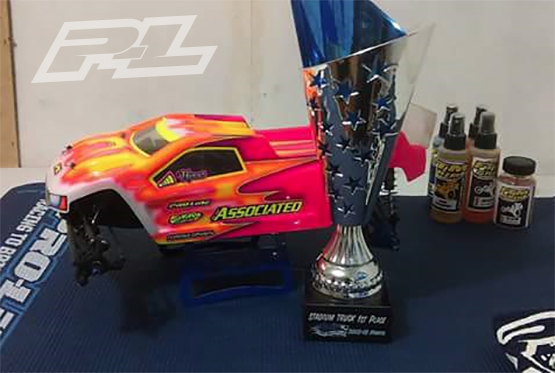 I've had a long but wonderful 2015/2016 indoor season. Reedy powered AE5 series cars have been exceptional to drive this year.
Pro-Line Tires and FTM Grip have made it very easy to drive both to the limit with great traction and Minimal Tire Wear week to week.
Thanks to RcImage Designs and Stickit1 Racing for keeping them looking to notch as well.
2WD Mod Buggy class this season I averaged a B-Main finish in the points series and with consistency would finish up  11th out of 105 plus different racers in the series overall.
Pro-Line products used on 2WD Buggy this season:
Pro-Line Phantom body
Pro-Line Microns MC compound Tires
Pro-Line Wheels
Pro-Line Carbon Front Tower
2WD Mod Stadium was a blast to run all season. With winning all but my last round I put myself a stretch out front in the points series taking overall Championship.
Pro-Line products used on 2WD Stadium:
Pro-Line BullDog Body
Pro-Line Electrons MC compound
Again a huge Thank you to all my great sponsors for their awesome support.
Pro-Line Racing
FTM Grip
RcImage Designs
– Marcus Dehaven