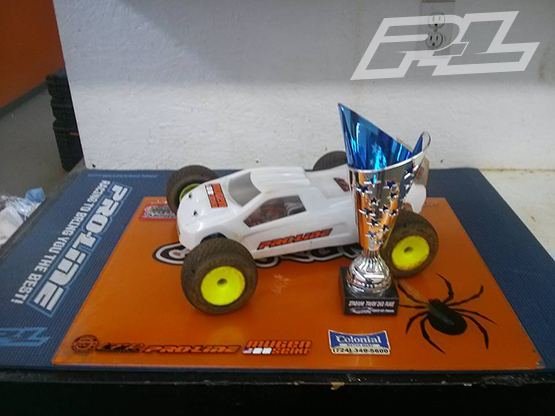 Wow, this Indoor Season has come to an end!!! Can't believe its over already!!!
I ran Stadium Truck and 2WD Mod Buggy for the Winter Points 8 Race Series at Bumps & Jumps!  Track is a medium to high traction clay.  I finished 2nd out of 21 in Stadium Truck and 20th out of 106 in 2WD Mod Buggy.  The racing was stacked all 8 Points Races!!! There was an average of 120 Entries per round topping off the highest weekend at 160+.
Top 2 in Stadium Truck were both running on Pro-Line Electrons MC.
Marcus Deheaven won every round of Stadium Truck, but the last 2!!!
Equipment Used:
Stadium Truck- Pro-Line Electrons MC & Pro-Line BullDog Bodies
Mod 2WD Buggy- Pro-Line Micron MC Rear, Pro-Line Electrons MC Front, Predator B5M Body, Trifecta Wing, and B5M Front Tower