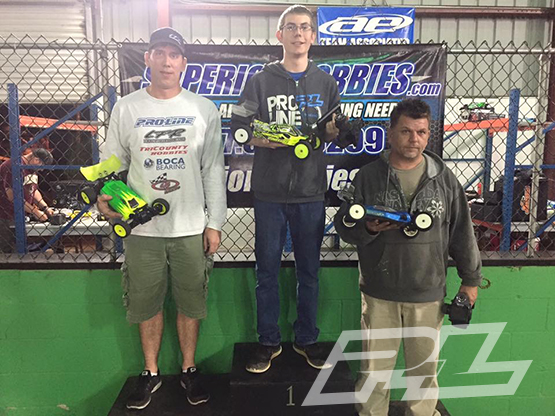 Beachline Raceway was holding their first Anniversary Point Series race. Today was round 1 out of 4 with one drop. We both ran our 13.5 4WD Buggies. I may have struggled some, but David killed it. He took 2nd in his first heat with a 15 lap 5:02.232 and 2nd in his second heat improving his time to a 16 lap 5:10.385. This put him starting 2nd in the Main. I on the other hand was only able to qualify 7th.
Jessica and David ran Pro-Line Electron Tires
In the Main David was behind the first place driver #Tilar Pollack through a lot of the race, but ended up making a couple mistakes giving Tilar a bigger lead on him. David kept pushing hard and was able to finish 2nd making the podium. I had some bad luck and was taken out twice from behind as I was taking a jump. This gave me a 26-second lap and a 27-second lap. That really hurt and dropped me down a spot to finish 8th overall.
David Iler Race Results
13.5 4WD Buggy
Qualified: 2nd
Finished: 2nd
Tires: Pro-Line Clay Electrons Rear, Primes Front
Jessica Iler Race Results
13.5 4WD Buggy
Qualified: 7th
Finished: 8th
Tires: Pro-Line Clay Electrons Front and Rear