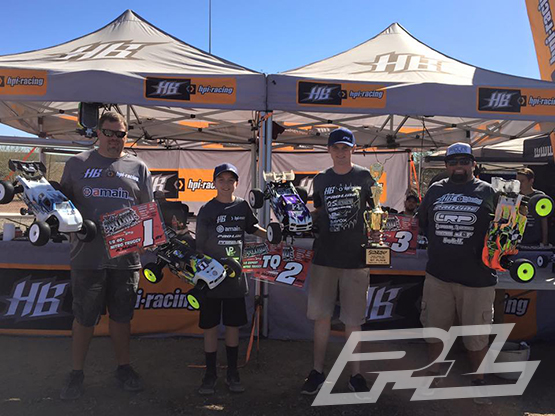 This past weekend, we traveled to Phoenix, AZ to attend the 17th annual Dirt Nitro Challenge at the Fear Farm RC Raceway. Wednesday we had two 7-minutes practice sessions for each class, with the 2nd set of practice runs being used for seeding. Thursday was Truck and E-Buggy qualifying, this went fairly well, some mistakes on my part in the runs but I was able to TQ round 1 of truck and ended up qualifying 2nd in both Truck and E-Buggy. Friday was Nitro Buggy qualifying, which was really close among the top drivers and I ended up qualifying 4th.
Ty ran Pro-Line X3 Suppressors to victory in 1:8 Truck
Also Check out the NEOBuggy.net "Under The Champion's Hood" article!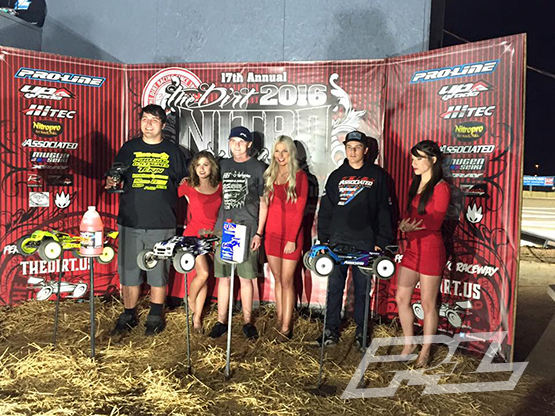 Saturday was the truck and E-Buggy Main day, E-Buggy was up first, I got a good start and the top 3 drivers swapped positions for several laps, I was eventually able to take the lead which I held until my battery started to dump on the last lap and Maifield got by for the win and I took second. Later that evening the Truck Main was up, again I started 2nd on the grid but was able to get by for the lead in the first few corners when Maifield made a mistake, then there were 5 of us battling for the lead for awhile, Maifield managed to make a small gap, the car in front of me crashed and went upside down, a spectator threw the marshaled car down right on top of me which caused me to lose 5 seconds which at this point I felt I would not be able to make up 9-seconds unless something happened to Maifield, which unfortunately for him it did when he flamed out. I now knew that I had a good gap on second so I just cruised around the track and took the win.
Sunday was nitro buggy main day, my car was ready to go and all I had to do was wait. Starting 4th I was hoping for a good start and that is what I got, I passed Cavelieri fairly early in the race and stuck with Dakotah and Maifield until Dakotah went flying off the track and I got by him. I battled with Maifield for awhile and then I took over 1st place which is where I was about 6 seconds ahead when I landed just after the finish line and got a huge rock in my wheel which locked up the rear end of my car, I was able to limp to pit lane where Dad was able to pry the rock out and send me on my way unfortunately I was 14-seconds back at this point, which is a huge amount to make up with about 25 minutes to go, I was able to finish 3rd only 8-seconds behind the leader. While it was disappointing to lose the race, I felt I had done everything I needed to do and sometimes these things happen. All my equipment worked flawlessly all weekend long.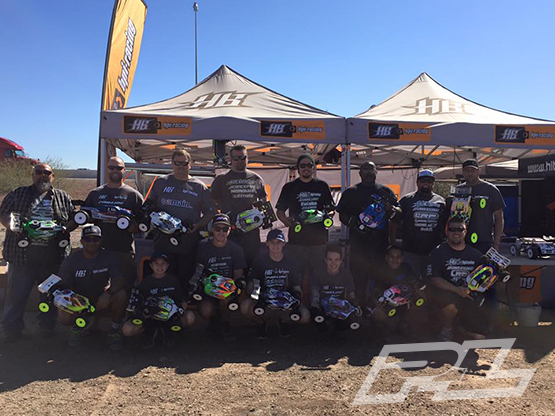 I want to thank all my sponsors because without all of you I could not do what I love to do. Thanks also to my parents and my sister who give me all the support I could ask for and it really is a team effort. I also want to thank my Lord and Saviour Jesus Christ for without him I would not be where I am today.
Thanks
Ty Tessmann