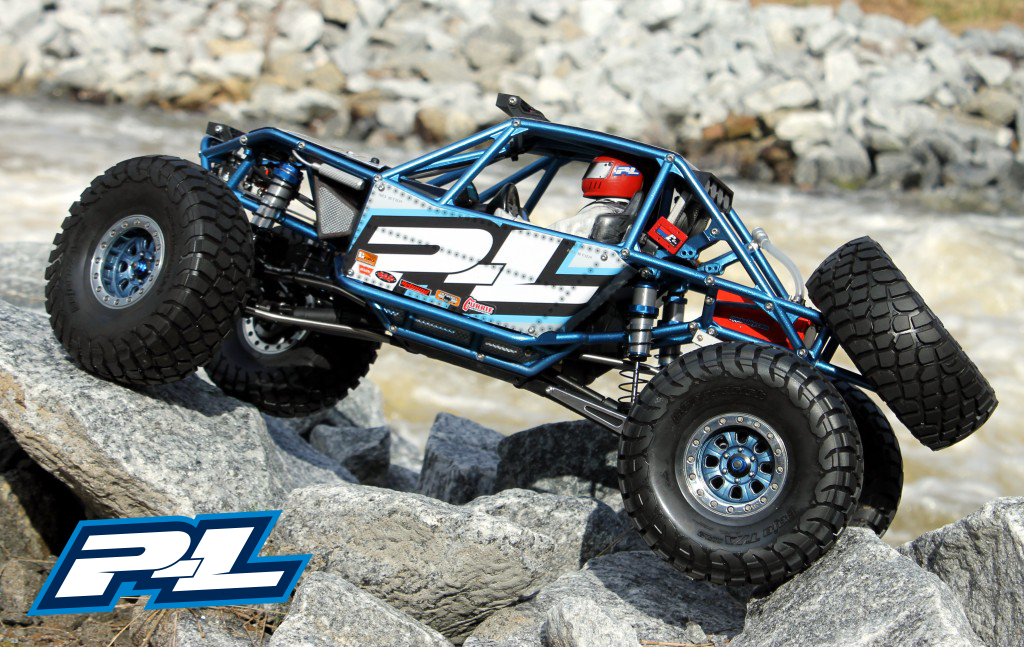 Axial's RR10 Bomber Platform has burst onto the RC scene, quickly becoming one of the most sought after rigs in a short period of time It has captured the thrill of ULTRA4 Racing / King of the Hammers events. It's a nicely balanced 1:10 scale rig that lends it self to all sorts of detailing and Upgrades! Pro-Line Racing recognizes this and set out on a quest to build our version of the Ultimate Rock Racer. We are proud to offer exciting products to upgrade this awesome platform into the rock racer of your dreams as well as show you how to put it all together into one awesome package.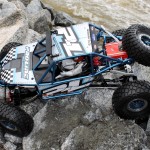 Tires / Wheels: New Products
To start, Pro-Line's new BFGoodrich licensed scale crawler tires were selected for this project. These awesome looking KR2 Rock Terrain version tires are almost a year in development and testing. In our initial release, we will be offering them in both 1.9 and 2.2 sizes. Shown here on the truck are the 10119-14 KR2 2.2" versions mounted to a set of our 2757-15 Denali 2.2" Black Bead lock wheels. The black paint finish was stripped off the bead lock rings with Dupli-Color ST100 Paint Stripper and then polished to a Mirror finish with automotive grade metal polish. Gear Head GEA1120 M2 X 8mm Scale Silver hex bolts were added to hold the bead lock rings on for more scale realism.
Wheel Mounting
The 2.2 Denali Wheels are not a direct fit to the RR10 Bomber hex drives. They are not a direct fit due to the installation of a raised step hex's on the axle shafts. There are however a few options to solve the hex dilemma. The quickest way is to drill out the center of the wheel to the same diameter of the hex step shoulder. You would then use the Axial AXA1090 4.8X14 Black wheel washers in between the face of the wheel and the wheel nut. For more advance builders, you can grind off this step on the face of the hex for the wheel to fully seat on the hex (which is what I did) or you can install non step faced aftermarket hex drive.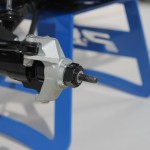 Shocks / Suspension
For high performance in both Crawling and Desert Racing a set of our big bore 6308-31 Pro-Spec Shocks were selected. The stock yellow springs were retained for the front while stiffer Purple and Red Springs were acquired for the Rears from our 6308-22 Rear Spring Assortment. The spring assortment allow for finer tuning of the suspension, based on the running conditions of the vehicle. Vanquish Titanium Links were used on the Front and upper part pf the rear Suspension. The Lower Rear links were retained and a set of Axial AX31245 Lower Link plates were added once the Gold Anodized finish was removed and the plates polished to a mirror finish.
Axle Upgrade
The stock plastic AR60 axle housings were upgraded to RC4WD AR60 Z-A0065 Front and Z-A0066 Rear Aluminum axles. Grip Fab Stainless Spools and Axial AX30395 HD Beveled gear sets were added to the front and rear. A Z-S0832 XVD axle set was added in the front for tighter turning and higher strength. The axles were finished off with various RC4WD, Grip Fab and Team KNK Hardware components which can be found in the Axle Parts list of the Builder's Parts List section at the bottom of this article.
Transmission / Drive Line
The transmission has been beefed up with a Axial AX31181 speed conversion kit and re assembled with stainless hardware from Team KNK's RR10 Bomber Hardware kit.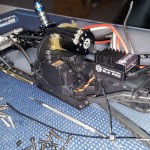 Axial Racing's optional AX31156 Machined aluminum motor mount, AX31161 32P /64T Steel Spur Gear and AX31164 Machined Slipper Plate Set were also added to the transmission's upgrade list. Don't forget to purchase a set of AX31068 Slipper pads when switching to the optional Steel Spur Gear.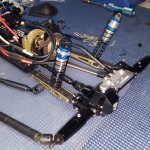 A Holmes Hobbies Puller Pro 540S "Stubby" 2200KV brushless motor and a Trailmaster BLE PRO Waterproof Speed Controller supplies power to the transmission. A Hitec HS5645 MG Digital Ultra Torque Servo was installed for shifting the 2 speed transmission. A SSD 00073 Scale Steel Drive Shaft was added on the rear and the stock front one modified with SSD 00032 Steel Boar Universal Joints and the plastic tubes of the drive shaft was shortened for proper length.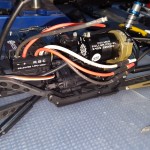 Body
I wanted a custom look to the Cage so it was disassembled, prepped and custom painted with Dupli-Color Automotive Paint; found at most automotive parts stores. For best adhesion, I prepped the plastic parts with rubbing alcohol and did not use a primer making sure the paint dried between coats. This is the best method I have found for painting plastic. Please Note that while it looks good, it will scratch with any rough abuse as it's a painted surface just like a real car. The cage was the re-assembled with Stainless Hardwar from Team KNK's RR10 Bomber Hardware kit
Turning attention to the body panels the stock panels were covered in an awesome Pro-Line RR10 Bomber Skinz graphics kit by Freqeskiz. They have some nice selections and it's an easy way to add a custom look to you RR10 Bomber or other RC vehicles.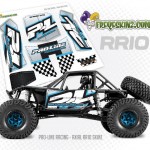 Exterior Body, LED Lighting and Accessories
Let there be light! Yes Pro-Line has some new Super-Bright LED Light Bars. At almost 500LUX, these are just about double the brightness of any other RC LED comparable light bar currently available. The 6076-00 2" bar was mounted up front and the 6276-01 4" Bar was mounted on the roof. The Lights are rated for 6V to 12V power, so you have the option to plug directly into a 3S lipo power source for Super-Bright LED Light.
Back lit LED Gauges and a 3D printed GoPro Camera from , Exclusive RC were added to the interior for more scale realism (GoPro Camera's are not lite). These gauges were wired to the same circuit as the 2" and 4" Pro-Line Super Bright LED Light bars. Exclusive RC pre resistor's ALL of their wired products with LEDs. Their LED lit products can handle anything from 7 volt, all the way up to 14 volts.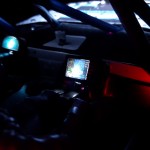 KOH Rear Brake and Safety lights were also installed using a HeyOK KOH Rear Brake / Safety Light Controller LED Kit, Axial AX80103 Rear Light Bezel and Radiator set and 2x of the AX80049 Lens Set (Yellow Clear). The Rear light bezel was screwed to the under side of the Upper Role cage using 2x M2 Self tapping button head screws.
A working recovery winch was installed on the RR10 Bomber using a WeryMade Servo Winch Plate, Integy Billet Machined Power Winch, RC4WD Warn Z-S1310 Hawse Polished Aluminum Fairlead and Z-S1551 Warn Premium Winch Hook. The winch is controlled by a RC4WD Z-S1092 Warn Wireless Remote / Receiver winch controller since the 3rd channel of the Radio is taken up by the two speed shift servo and the Brake light controllers.
To add final details, the radiator and fans parts left over from the AX80103 Light bezel parts tree were painted and added to the back side of the interior tray. The stock Axial RR10 Bomber Drivers Helmets are out of Scale. This problem was solved by replacing them with more proportioned units from our PRO2 SC Buggy kit from Parts Tree 6254-02. The helmets and Driver suits were then detailed out from the rest of the black interior tray.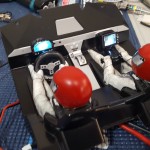 The fuel cell was painted red and then further detailed. The filler tube was made from Team Associated 7725 Fuel line and the filler valve made from the reservoir part of a older SCX10 AX80029 Plastic shock parts tree. The jack, pry bar and other scale components were pulled from our Rock Crawling Performance Parts (6045-00) in the Crawler section of our web site.
Conclusion:
For Us, The Axial RR10 Bomber truly captures the passion of Ultra 4 Racing and King of the Hammers. It's been a blast to work on and a great platform to be detailed out! I hope that you enjoyed reading this article and that it can spark an idea for a Epic RR10 Bomber build of you own!
RR10 Bomber Builders Parts List
Accessories
Axial AX80029 Shock Cap Parts Tree (To Fab Filler Valve detail) Axial AX80103 Rear Light Bezel and Radiator set
Axial AX80049 Lens Set (Yellow Clear)
Exclusive RC AIM Race Cluster (LED Back Lit Digital Dash)
Exclusive RC GPS – GPS On / Off Road (LED Back Lit)
Exclusive RC GoPro Camera
Pro-Line 6045-00 Scale Accessories Assortment #2
Pro-Line 6254-02 Rear Engine Cover plastics, Cage Mounts, Helmet
RC4WD Z-S0731 Chubby Mini's (2x pair) for Wheels off Display
Team Associated 7725 3' Fuel Line
Axle Components
Axial AX30395 HD Bevel Gear Set 38T/13T
Grip Fab GFSPL7 SS Stainless Steel Spool for AR60 Axles
RC4WD Z-A0065 Aluminum Front Axle housing
RC4WD Z-A0066 Aluminum Rear Axle housing
RC4WD Z-S0832 XVD Extreme Duty Axles
RC4WD Z-S0697 Lower Link Mounts (2x Pair)
RC4WD Z-S0352 ARB Diff Cover
RC4WD Z-S0608 Balistic Fab Diff Cover
RC4WD Z-S0587 Upper 4 Link Mount Set
Body
Freqeskinz Custom RR10 Bomber Pro-Line Racing Skin
Hardware
Team KNK RR10 Bomber Stainless Screw Set
Lighting / LEDS
Axial Axial AX80103 Rear Light Bezel and Radiator set
Axial AX80049 Lens Set (Yellow Clear)
HeyOK KOH / Rear Brake Light Controller w LEDS
Pro-Line 6276-00 2" Super Bright LED Light Bar Kit
Pro-Line 6276-01 4" Super Bright LED Light Bar Kit
Suspension / Steering / Drive Line
Axial AX30834 23T Aluminum Servo Horn
Axial AX31245 Lower Link Plate Set
Hot Racing WRA49E01 Black Aluminum Fixed Link Steering Rod Kit
Pro-Line 6308-22 SC Spring Assortment – Rear (Purple on Rear Shocks)
Pro-Line 6308-31 Pro-Speck Shocks – Rear (Use Front and Rear)
SSD SSD00073 Scale Steel Drive Shaft (Yeti – Bomber Rear Only)
SSD SSD00032 Steel Boar Universal Joints, Axial WB8 HD Drive Shafts (Bomber Front)
Vanquish VPS03135 Lower Links (Front)
Vanquish VPS03136 Upper Links (Front)
Vanquish VPS03201 Clear Anodized Steering Knuckles
Vanquish VPS07201 Lower Links – Yeti / Bomber Uppers (Rear Only)
Tires and Wheels
Axial AXA1090 4.8X14 Black wheel washers
GearHead GEA1120 M2 X 8mm Scale Silver Hex Bolts
Pro-Line 2757-15 Denali 2.2" Bead Locks
Pro-Line 10119-14 BFGoodrich Baja KR2 2.2" G8 Tock Terrain Tires
Transmission
Axial AX31068 Slipper Pad Set
Axial AX31156 Machined Adjustable Motor Mount
Axial AX31161 Steel Spur Gear 32 P 64T
Axial AX31164 Machined Slipper Plate set
Axial AX31181 2-Speed Hi/Lo Transmission Kit
Hitec HS5645MG Digital Ultra Torque Servo (For shifting 2 speed transmission)
Holmes Hobbies Puller Pro 540S "Stubby" 2200KV Brushless Motor
Holmes Hobbies Trailmaster BLE PRO Waterproof Sensored Brushless Speed Controller
Winch Components
Integy INTC24659RED Billet Machined Realistic Power Winch
RC4WD Z-S1551 Warn 1/10 Premium Winch Hook
RC4WD Z-S1310 Warn 1/10 Hawse Polished Aluminum Fairlead
RC4WD Z-S1092 Warn 1/10 Wireless Remote / Receiver Winch Controller
WertyMade WM-BSP RR10 Bomber Stainless Servo Winch Plate