2016 Motorama is in the books, and what an event it was!
Scotty Ernst and his crew put in an amazing layout and ran a very smooth race program.
Expert 1:8 Buggy had an amazing amount of talent filling the field of nearly 115 entry's, my TLR 8ight-E 4.0  on  Pro-Line X3 Hole Shots, was running great all weekend allowing me hold the #1 seed spot coming into the qualifiers.
A couple of small mistakes threw out the qualifiers would push me back to the 6th overall spot going into A1.
Mains underway and I was able to finish with points 6-12-9 giving me a 10th overall finish in the expert 1:8 Buggy class.
Expert 1:8 Truggy also providing some of the best drivers among the east coast along with many others!
Expert Truggy was able to pull in a astonishing 90 entry's!
TLR 8ight-T 3.0 was absolutely on rails this weekend using my Pro-Line M3 Hole Shots.

I managed to qualify 3rd overall for the weekend with a car that I felt had a great chance to put it on the top spot of the podium. A1 was probably the most intense race i have ever been involved in, the crowd at Motorama going nuts as me and team-mate Anthony Mazzara battled nearly the whole race swapping spots back and forth for the lead over 10 times. Anthony was able to pull a small lead giving me a 2 in A1.
Main 2 under way and the battle was back on! while trying to put pressure on Mazzara I got to far inside of him and ended up putting Mazzara on his lid. I waited as the turn marshal hurried to flip Anthony back over, while waiting team-mate Chris Bing managed to catch and pass us. Mazzara managed to catch and pass Bing taking A2 win and overall winner for the weekend.
My weekend finished out with finishing spot 2-3-2 giving me 2nd overall in Expert 1:8 Truggy!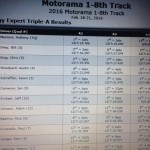 I wouldn't be able to do any of this with out my sponsors being on my side thank you very much to TLR, Horizon Hobby, Spektrum RC, Pro-Line Racing, Orion, Nitrotane, SMC, BFAST-RC performance and Austintown Hobby.
– Bill Shay