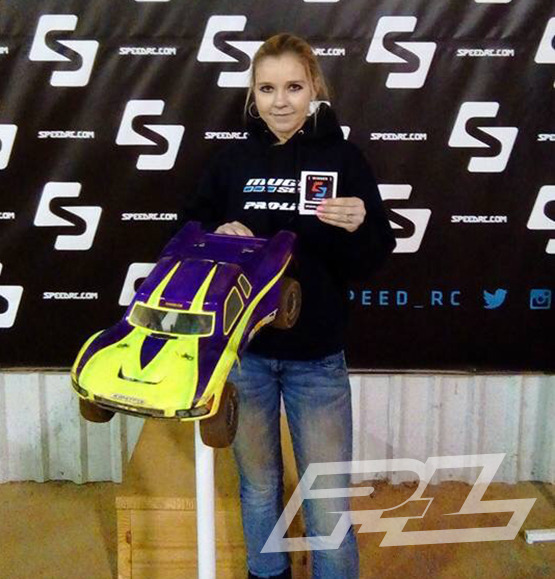 Carmendy had a great start to the week winning the 2WD SCT class with her Losi 22 2.0 on Pro-Line M4 Primes at Speed RC. She had an exciting battle with second place. They were constantly trading places for the lead, and it was anyone's race until the last lap.
Carmendy continued the week by heading to Sumter RC Raceway in South Carolina to race her Mugen Seiki MBX7R-ECO. There was finally a break with the bad weather in the Carolinas, and it brought out some stiff competition in open e-buggy. At the beginning of the day the track was pretty dusty, and Carmendy went out on Pro-Line M3 Suppressors for the first qualifier. She said that the Tires and Buggy both felt amazing, but she was unable to finish the qualifier due to an electrical failure. It was rocket round qualifying, and there was only one round of qualifying left before the Mains.
Carmendy was determined to make the A-main without bumping, but it meant that she would need a solid 8 lap run in the second round. Carmendy chose suppressors again for the second round seeing that the track was still dusty. Her driving style was pretty conservative in the last round of qualifying, but it allowed her to stay out of any potential wrecks. Carmendy held her smooth driving until the end and came up only 2-seconds short of a 9 lap run. This was definitely enough to put her into the A-Main with that one run. She started 7th overall, but made a tire change going to Pro-Line M4 Hole Shot 2.0s for the Mains. The sun had gone down and track had gripped up.
The Hole Shot 2.0s proved to be an excellent choice, and Carmendy soared from 7th to 2nd in the first lap.
All the carnage was behind her, and it was just a matter of perseverance trying to hold off the top couple guys from passing her. She had some intense battles with the second, third, and fourth place drivers including touching wheels in the air with one of her Mugen teammates. She would eventually finish 5th only 3-seconds behind 4th place. Carmendy was very happy with the top 5 finish, and would like to thank her sponsors including Pro-Line and Mugen Seiki Racing along with Sumter RC for having the race.
– Caty Carmendy