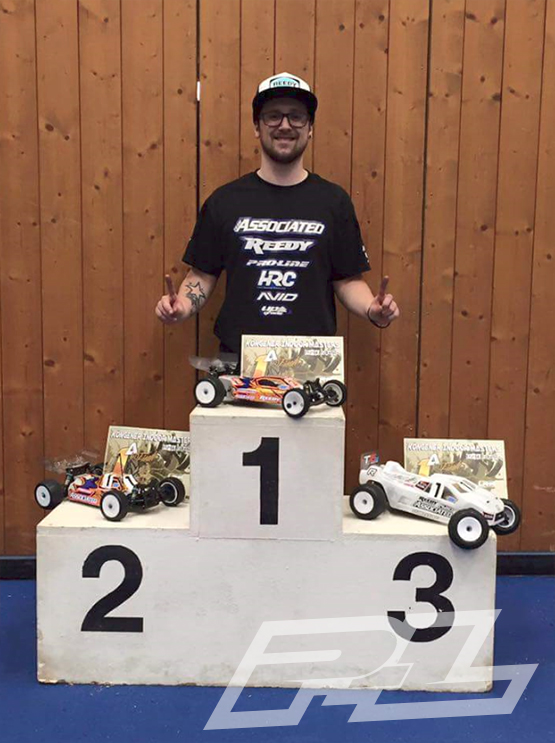 Past weekend was the all year Köngner Indoor Master at Germany.
The Track was with a blue low-medium carpet and some difficult jumps.
140 entry in different categories in a international field.
Patrick runs:
2WD Predator Body
Truck BullDog body
4WD Phantom Body and Trifecta Wing
Team Associated / Reedy Driver Patrick Hofer run with his B5M, T5M and B44.3 on this race. He can made 2 TQ's in 4WD and Truck and 2nd in 2WD behind Micha Widmeier after qualification. But with two A-Final wins in all 3 Classes can bring home Patrick the Triple Master at the Köngner Indoor Masters.
Rankings:
4wd:
1.) Patrick Hofer / Team Associated/ Reedy / Pro-Line/ AvidRC /HRC/UpGradeRC
2.) Micha Widmeier / Schumacher
3.) Fabian Luca Widmer / Yokomo
2wd:
1.) Patrick Hofer / Team Associated/ Reedy / Pro-Line/ AvidRC /HRC/UpGradeRC
2.) Micha Widmeier / Schumacher
3.) Björn Prümper / Yokomo
Truck:
1.) Patrick Hofer / Team Associated/ Reedy / Pro-Line/ AvidRC /HRC/UpGradeRC
2.) Robert Hart / Associated
3.)Karsten Boehlke / Associated
Best regards,
Patrick Hofer