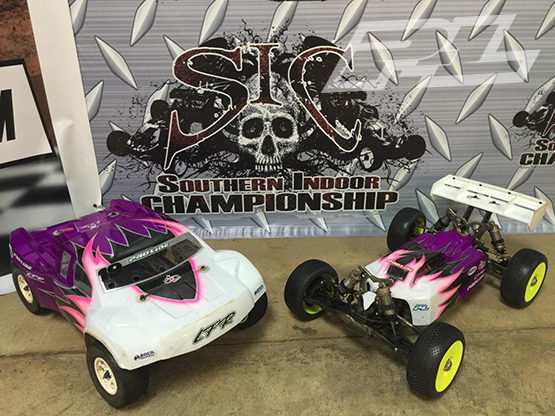 This was our second year attending the Southern Indoor Championship (SIC) race in Autaugaville, Alabama. We got on the road by 4:20 AM Thursday morning for our 9 ½ hour drive. The weather was not cooperating with us as it rained most of the way. We arrived safely at the track followed by #Matt Kirkpatrick and #Lazi. As we pulled in #Brett Hold and his daughter Kiarra were just setting up for the long weekend. Brett was nice enough to let David, me and our dog Sammie pit with them in their trailer.
Team Iler Ran Pro-Line Hole Shots on their SCT, E-Buggy and E-Truggy
We headed to the building to get a sneak peek at the track layout. When they said the track was going to be bigger and a "Game Changer" they were not kidding. #Bobby Moore out did himself again at designing the track. You could tell the track crew had put in some long hours and hard work to make this track more SIC then last year. One of the most challenging tracks we have been on. After setting up our pit area we headed to our hotel to check in to have an early dinner and rest before practice the next day. We stayed at the In-Town & Suites hotel in Prattsville. For the price you cannot go wrong. It is very clean and you have a little kitchen with a full size refrigerator, microwave and stove, plus a little sitting area.
Friday morning we bundled up in several layers as it was in the low 30's. This was a big difference compared to Florida weather. We stopped at the store first for some hot coffee and rock stars before heading to the track. We were so excited that we were the first ones in line for practice. We wanted as much track time as possible so we made sure to run one battery after another all morning before the line got real long.
Saturday morning came fast and it was qualifying day. David was in 2nd place with his E-Truggy on an 8 lap pace during his 1st qualifier when he hit the wall taking the triple and ended up breaking his front out drive, rod end and also bending his axle shaft. He didn't have a lot of spare parts since he had just recently gotten the Truggy. Thanks to Tekno driver and LFR teammate #Joe Bornhorst for giving him an axle shaft and teammate #Janos (Lazi) Lazar for the front out drive. If it wasn't for the both of them he would not have been able to continue to race the rest of the weekend. His 2nd qualifier didn't go as well, so he made some slight changes before round 3. Taking a 3rd, 8th and 5th place finish in his qualifying heats it gave him a 6th place start in the triple A-Main. David also raced Pro E-Buggy. The first round of qualifying went well as he was on an 8 lap pace keeping up with the other racers. He struggled during the 2nd and 3rd round and made some mistakes and could not recover from them. This put him starting in the 2nd position of the D-Main.
I was very consistent with my SCT. My 1st round I had a 7/5.35.712, 2nd round a 7/5.40.064 and my 3rd round was a 7/5.35.443. This was good enough for me to start 11th in the triple A-main. My E-buggy during the 1st round seemed like it was not handling very well with the bumps or jumps. Even though I had finished 4th in my heat it just didn't seem right. As I was waiting in line for round 2 I was checking out my buggy and that is when I noticed one of my shock shafts was bent and my arm was not moving freely. With only 6 minutes to my race David quickly went back to the pit and changed out my shock and made it back just in time for my qualifier. I can only blame myself for not noticing it sooner. The Buggy handled a lot better the next two rounds. I was very pleased to find out that I had made it to the B-Main beating out 29 other racers.
The Mains started at 6:00 AM Sunday morning. David was race 3 so we had to be up early and ready to go. It was a close clean race between David, #James Calhoun and #Jason Gentry. David was able to finish 2nd and bump up to the C-main. Starting off in the back of the pack in the 14th position of the C-Main David was able to work his way up through the pack to finish 7th . E-Truggy triple A-mains were stacked with some of the top drivers such as #Patrick Rossiter and #Tilar Pollack. It was very intense to watch. David finished 6th overall with an A1-5th place, A2-7th place and an A3-4th place finish.
My E-Buggy B-Main was race 12. I was starting 8th and really wanted to get the bump to the A-main. On the first lap I got hammered by so many cars that it broke my body in the front. After a few laps when I took a jump the cover lifted up and I could not drive. I made it slowly around to pit lane where David and #Kiarra tried their best to clip my body down. After the 4th time to pit lane I told them to just pull my buggy off since there really was no hope left. I was very disappointed, but at the same time proud of making it as far as I did. I struggled some in A1 and A2 with my SCT. By A3 I was finally feeling more confident and was hitting the triple in the back and trying to make the whip corner. Even though I finished 11th in A1, and 10th in both A2 and A3 I was going home with a 13th finish overall.
In the end we both had a lot of fun and we both exceeded our expectations that weekend. Speaking for myself I gained a little bit more confidence in myself. I just wish it had come a little sooner.
We would like to thank #Mike Santana, #William Goodwin, #Dave Leikam, #Jennifer, #Lance MacDonald, and #Bobby Moore for all their hard work and long hours to make this a killer event for all of us to remember.
We would also like to give a huge thank you to our sponsors…..
Pro-Line for their Hole Shots getting us to the A-main……
#LFR2016 for the Assassin body…….#BocaBearings for their high quality green sealed bearings……#TriCountyHobbies and #DERacing.