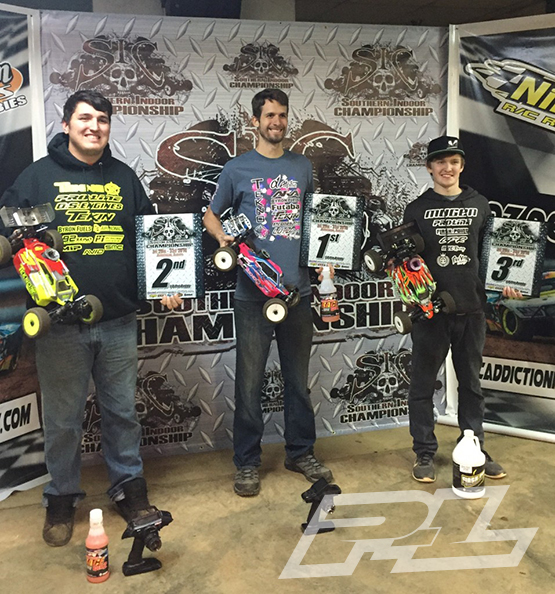 This past weekend marked the Southern Indoor Championship race held in Autaugaville, Alabama. The race is put on every year by the Psycho Nitro Blast crew and is always a go to event for drivers in the southeast. This year the race was bigger than ever with entries totaling right around 320; 60 of which were in the Pro Buggy class.
Pro-Line M4 Blockades were the ticket!
Friday morning marked the start of practice. The fresh layout built by Bobby Moore proved to be challenging but great for racing as the weekend progressed. I only ran Pro Buggy for the weekend so I used the practice time to test tires and setup changes. My car was brand new so it took a few runs for it to completely break in.
Qualifying was held on Saturday and consisted of three rounds. I ran Pro-Line M4 Blockades in the first round and put in an okay run placing 9th overall. My next two qualifiers didn't go quite as planned as I struggled to find a rhythm in the short five minute heats. I would sit 1st in the B-Main going into Mains on Sunday.
As Sunday approached, I thoroughly went through my car making sure everything was good to go for the 20-minute B-Main. Once again, I chose the M4 Blockade Tire knowing it would be the most consistent for the medium traction surface. I started off the main in front and eventually swapped places for the lead. However, towards the end of the run I finally got in my groove and would take the win, claiming the bump spot.
The 30-minute Pro Buggy A-Main was the most anticipated race of the day. I went into the race with a clear head and knew I had to put in clean laps to make up positions on the talented field of drivers. I did just that and worked my way through the pack. I slowly picked off positions and was 4th going into the last pit stop where I would flame out. Luckily, my pit guys got me out quick enough to capitalize on an issue from 3rd place. I ran consistent for the rest of the race and claimed third on the podium!
All in all, it was a great way to start out the 2016 season. I am really excited about running Pro-Line products and can't wait to see where this year takes me!!