Beach R/C's New Years Resolutions Race Report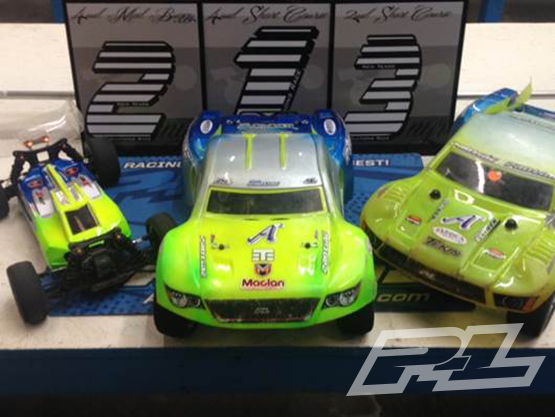 I made the 3 and a half hour trek south for Beach R/C's first trophy race in 2016, the New Years Resolutions Race. I kept busy running three classes, including 2wd and 4wd short course trucks and 4wd buggy.
I have been working on my Pro-Line PRO-2 Truck during the winter months so I was excited to see how the upgrades and set-up adjustments would translate on the track. The PRO-2 truck felt strong and I was able to improve my lap times throughout the day. In the 3rd heat, I grabbed my first ever TQ with my PRO-2, which is definitely one of the highlights of this early 2016 season. I was hoping to carry that momentum into the A-Main but an unfortunate issue with my electronics 2-minutes into the race dashed any chance I had at the TQ/1st place combo. I was able to reset my ESC and get my PRO-2 back on the track after the unscheduled pit stop that resulted in a 1-minute and 15 second lap. I was able to finish the race and still managed to take home 3rd place.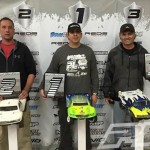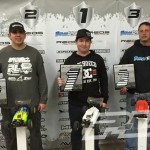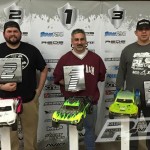 Immediately after the race I began working on my PRO-2 again and hope to have some new custom carbon fiber parts and a new Pro-Line Flo-Tek body ready to go for the 2nd Annual Palmetto Classic in March.
In the 4WD SCT division, I was able to grab the TQ/1st place combo by keeping things smooth and consistent. In the qualifiers, I was guilty of overdriving my truck and chasing after fast laps, which hurt my overall time. In the A-Main, I settled into a groove and hit the race lines leading to my best times of the day.
I am very impressed with the Pro-Line MC compounds, I have a half dozen race days on my Electrons. The treads aren't showing any signs of wear and the tires are still allowing me to record the fastest laps in the 4wd SCT division.
My third class was the 4WD Buggy; I definitely had some work to do after the first heat. I sorted things out by the third heat and qualified 2nd; however, starting up front in the A-Main didn't provide much of an advantage. In the first lap, I was unable to get away cleanly and dropped several spots. Things continued to go south and after 3 laps I was in dead last. I slowly worked my way up the board and spent over half the race in 6th place trying to chase down the pack. With a minute left in race, I found myself back in a podium position after navigating my Buggy into the third position. The final minute I was able to jump one more spot and finished 2nd overall. It was a very exciting race and a great experience.
In the end, I collected two TQs and 1st, 2nd and 3rd place plaques at the New Years Resolutions Race.
I would like to thank all the companies that allow me to represent them and provide tremendous support – Pro-Line Racing, Bullit R/C Hobby Shop, Boca Bearings, Xpert Servos and Maclan.