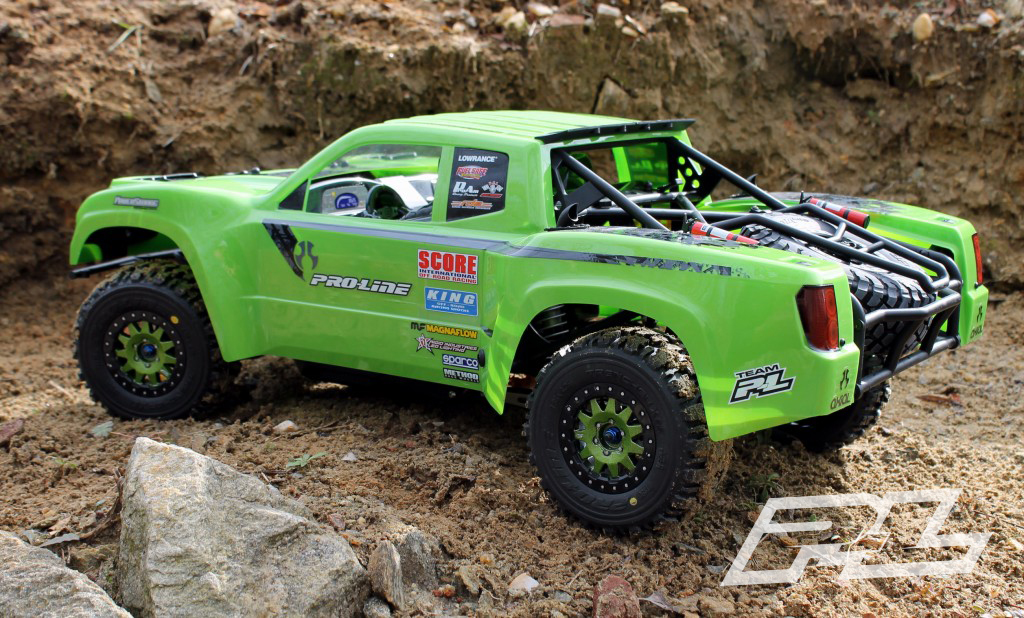 Axial Racing's new Yeti Based SCORE Truck is definitely one of the more popular / eye catching releases to come out of the Axial Racing stable in a long time. It combines Yeti suspension performance with real SCORE Desert Truck Racing looks and performance. We at Pro-Line love these trucks and have a few wheel, tire, and suspension upgrade options for you to check out!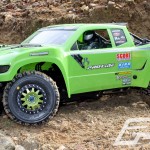 Overview
In this article, we're going to show you how to upgrade the rear axle to the same width as the front suspension. This upgrade will allow you to run the same offset wheels on the front and rear opening up more tire options. We'll also upgrade the suspension with our line of Powerstroke Shocks!
Rear Axle:
First thing we are going to do is get the rear axle width corrected. Axial Racing's AX31290 AR60 OCP Full Width Adapter set is just what the doctor ordered. It corrects / widens the rear axle to the front width. While upgrading the axle, we're also installing a set of BeefTubes BT004B Brass Axle Tubes, Grip Fab GFSPL7 AR60 Spool, and Axial's AX30395 Hardened steel gear set. This pretty much beefs the rear axle up and ensures hours of worry free running. A set of Pro-Line 6098-00 12mm Clamping Hex's and a RC4WD Z-S0608 Balistic Fabrications Diff Cover finished of the AR60 Axle Conversion
Suspension
With the updated AR60 axle re-installed, the rear trailing arms were beefed up with Axial's AX31244 Upper and AX31245 Lower Link plate sets. Pro-Line's 6275-00 Powerstroke XT 5" length shocks were installed in the rear, and 6063-00 Powerstroke shocks up front. The shocks were filled with 30wt oil. This is a good initial starting point. The oil weights will be fine tuned with further testing. Team KNK Hardware holds everything together very nicely
Wheels and Tires
Now that the Rear axle offset is corrected, we can run same offset 12mm hex SC wheels on the front and rear of the truck. For tires, I picked out a set of our 1190-01 Trencher X SC tires and mounted them up to a set of our 2739-03 F11 +3 Offset Black wheels. The Trencher X SC tires have awesome traction and great wear characteristics. The 2739-03 F11 wheels are a glue type wheel so you will need to glue the wheels to the tires. The glued wheels and tires were secured to the trucks axles using a set of Pro-Lines 6100-00 4mm Serrated Wheel Lock nuts. The serrated wheel nuts grip great and when properly tightened, you should never have to worry about having a wheel come loose
Note:
The Trencher X SC tire's OAD is slightly smaller than the Yeti SCORE's stock tires. You may loose a little top end speed, but you will gain performance in traction and handling.
Conclusion:
This is the start of what will become many upgrades for the Yeti SCORE Desert Truck from Pro-Line Racing! Look for more products and upgrades to come in the near future! Please subscribe to our monthly news letter Or Follow us on Facebook, Instagram, Twitter, and other Social Media so you don't miss out on any updates as well as new product announcements!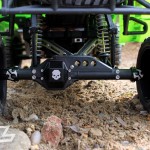 Thanks for reading and hope you enjoyed the article!
Axial
AX30395 Hardened Steel Spiral Cut Gear Set
AX31290 AR60 OCP Full Width Axle adapter set
AX31244 Upper Link Plate Set
AX31245 Lower Link Plate Set
BeefTubes
BT004B AR60 Brass Tubes
Grip Fab
GFSPL7 AR60 Axle Spool
Pro-Line
1190-01 Trencher X SC Tires (2X)
2739-03 F11 +3 Offset Black Wheels
6063-00 Powerstroke Front Shock Set
6098-00 PRO-2 Clamping Hex's (2x)
6100-00 4mm Serrated Wheel nuts
6275-00 PowerStroke XT 5" Shocks
RC4WD
Z-S0608 AR60 Ballistic Fabrications Diff Cover
Team KNK