This past weekend was the 4th and final round for the Florida FORCE series.  Each race was held at different locations spanning all over the state of Florida features the fastest drivers in the state.  This round was originally scheduled to be held at Lake Park in Lutz, FL but with recent park issues and temporarily closure, it was moved to SS Hobbies and Raceway just miles down the road in Tampa.
Landen ran M4 Holeshots the entire weekend and the Pre-Cut Clear 1:8th Trifecta Lexan Wing.
Landen showed up Friday afternoon after getting out of school and making the 3 hour drive south to get a few practice runs in.  The track was new and wet from the rain all week.  Even though the track is covered, the track still received allot of water.

Racing began early Saturday morning and Landen would be competing in Pro Nitro Buggy and Pro E-Buggy.  In the first qualifier, Landen would take the round TQ in Nitro but a late mistake cost him TQ in E-Buggy and settled for 2nd.  In the 2nd round, Landen would improve him time in E-Buggy and take the overall TQ for the day.  In Nitro, he was on pace to improve his round 1 time by 10 seconds but a receiver LiPo failure caused a DNF and Ryan Eckert would beat his round 1 time and settle for starting 2nd on the grid in the A-Main.
The first race up was A1 of E-Buggy.  Landen was able to get a great start and lead from tone to tone in the 10-minute Main and take the win by over 22-seconds.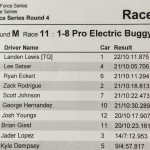 Up next would be the 35-minute Nitro A-Main.  Landen started 2nd and with a few rough laps at the start, he fell back to 6th place before he was able to get into the groove and take the lead.  Once he took the lead, he never looked back and was able to go on to take the win convincingly by 2 laps over 2nd place.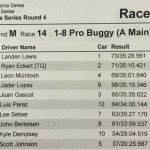 Special Thanks to all of Landen's sponsors:  XRay, RCAmerica, Pro-Line, Airtronics, Trinity, Absolute Hobbyz, Murnan Modified Motors, MIP, Schelle Racing, LFR, PT Oils, StickIt1, Kustom RC Graphics and Bob the Builder!