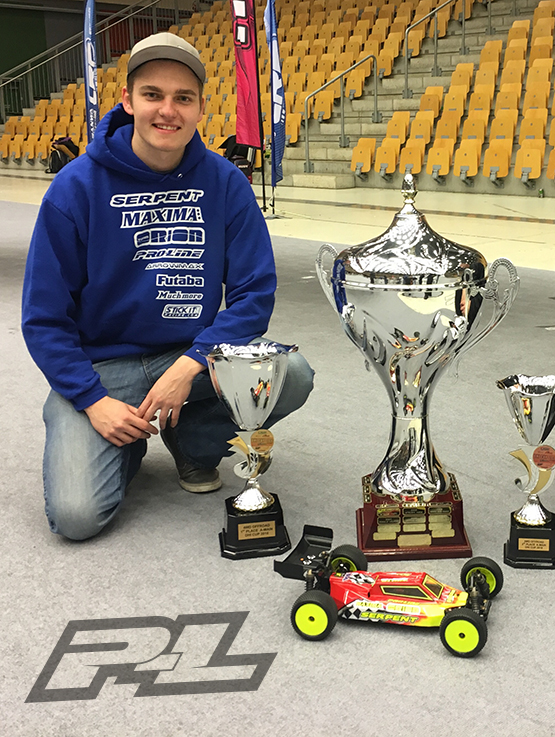 The 2016 DHI-Cup where held once again in Odense, Denmark. It´s a combined race between Off-road and On-road. Two separate tracks with the driver stand in the middle. Friday was 4 Rounds of practice for each class. I was 9th after 2WD practice and 6th after 4WD practice taking the best 3 laps. Over 5-minutes the pace was very good. In the evening qualifications I could take a 4th and 3rd place finish in 2WD. Very close at the top, only a few tenths between each other. In the morning 2 more Rounds of 2WD qualification. With a very good 2nd and a not so good 7th place, I started 4th on the grid for the triple A-Mains.
Pro-Line products used:
6031-00 – Pro-Line Tire Glue
2735-02 – Velocity 2.2″ Yellow Front Wheels
2736-02 – Velocity 2.2″ Yellow Rear Wheels
6250-17 – Trifecta Wing
3381-00 – BullDog Clear Body
Next up where 4WD qualifying. With a 4th, 3rdand two 2nd place finishes, I had to start again from 4th on the grid, which was a little disappointing, because more was possible, but the luck came back in the finals. And I knew my cars were easy to drive, which is for sure in advantage in the finals.
Sunday morning and first up were the 2WD finals. A1 was a good clean race and I finished 2nd behind Michal Orlowski. A2 Unfortunately someone crashed in front of me and I couldn't go around him, so I crashed and fall back to last, my car was really good this time and I pushed as hard as I could to recover in 3rdplace. A3 was a disaster, another driver crashed into me right after the start and I lost a lot of time. Overall I finished 3rd on the podium.
Up next 4WD A-Finals. A1 After some good battles I finished 2nd which was good as Bruno had already a good lead after a few minutes. A2 We changed the diff setup on the car and it was a good decision as the car had a lot more forward traction then before. I was able to take the win in A2. A3 and still the win was open between 3 drivers. I finished 2nd which was enough to take the overall victory and the only driver who ever won the 4WD class at the DHI-Cup.
Pro-Line products used:
6031-00 – Pro-Line Tire Glue
2735-02 – Velocity 2.2″ Yellow Front Wheels
2736-02 – Velocity 2.2″ Yellow Rear Wheels
6250-17 – Trifecta Wing
3381-00 – BullDog Clear Body