Went to The Track in Gaithersburg, MD for a little race fun with buddies, I went there early AM got some laps in. P-L Teammate Gabriel Galeano was also at the race, we were pitting together, everything was set for an awesome day!
Q1 started with a awesome run having a 20-lap run and as always having a great fight for position with Gabe on the track, I ended up taking 1st and Gabe took 2nd P-L was starting to dominate early in the day haha.
"P-L Primes where very hooked up and worked great!"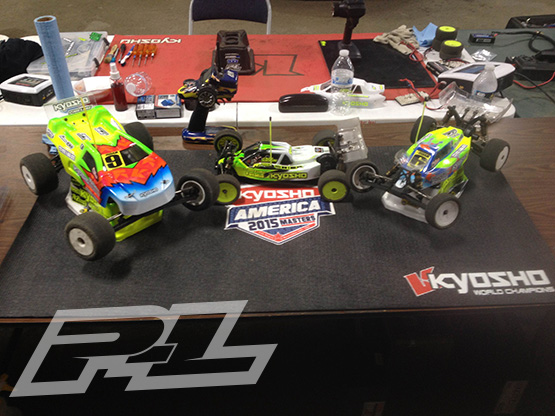 Q2 was another killer run with a fast local Perry in his B5M I ended up taking 2nd that run as me and Perry really where bumper to bumper style racing right behind each other every lap of the race it was AWESOME!!!
Q3 was when I went out and took it again followed by Jeff Whithead in 2nd and basically the same story of Q1 more tight racing! I had a great night so far and I was very comfortable heading into the 2wd Mod Buggy A-Main!!
Mains rolled around we had a fresh lipo in the car broken in set of Pro-line Racing M4 Primes and setup was on POINT! Main started with me in 1st, Jeff Whitehead starting second in his Serpent, Perry in 3rd with his B5M and Gabe in 4th with his RB6.. everything started nice and clean following the leader and me and Jeff started to break from the pack early we made some moves and had some tight racing and after a small mistake I checked out and had a super clean and fast race to come…was pulling wheelies on the back straight,
P-L Primes where very hooked up and worked great!
The car was easy to drive and gave me the TQ and win!!! Also Gabriel Galeano put on a beating in 2WD Mod Stadium Truck with P-L Primes in M4 and he killed it, his car was insane I watched the entire race and he was hooked! At the end of the day Pro-Line Racing ended up taking 2 TQ's and 2 Wins!!!! TEAM P-L FTW!!!
I want to thank all my sponsors for all the love and support and a giant shootout to Pro-line Racing, Daniel Adams and Jessica for all the awesome support!
I know every time I go out on the track that P-L has me hooked wherever I go!