The PRO-2 Platform is one of the most refined RC Racing Platforms ever to be produced by Pro-Line in its 30+ year history. The PRO-2 series combines Pro-Line's highest quality and best performing accessories into one box to create the ultimate Go Anywhere – Do Anything Short Course Buggy. The PRO-2 platform has race-bred DNA that will perform at the track and proven Pro-Line durability that will withstand the toughest backyard bashing.
You've most likely seen this kit built in many different PRO-2 SC Truck and now PRO-2 SC Buggy forms. All of these versions to date cater to offroad bashing and dirt track racing. With this in mind, I took on the task of presenting to you a totally different side of the PRO-2 Performance Family, A Super Modified Oval Track Racer!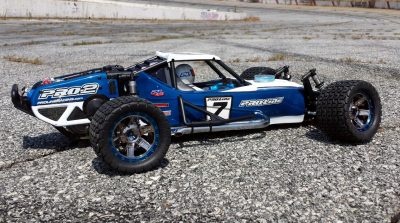 I started out with the 4002-01 2WD 1:10 Short Course Buggy Kit. The PRO-2 Buggy comes as a kit allowing you the opportunity to build the Buggy yourself by following the included color Instruction Manual and at the same time, modify it to create your own one of a kind unique version.
Setting up the suspension, the goal was to achieve an offset look to the suspension which most full size Super Modified race cars have. This was achieved with swapping the left side front and rear arms out with the stock Slash 2WD arms. The Left Dog bone also had to be swapped out for the stock length by using one from the MIP 08106 CVD kit.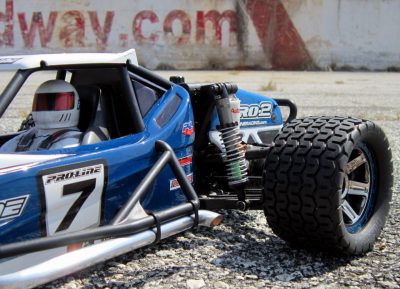 Since this will be set up as an oval flat tracker, the lighter / smaller 6060-00 PowerStroke Scaler Shocks were selected for the task. The car will need very minimal suspension so these work perfectly and add a bit of scale realism.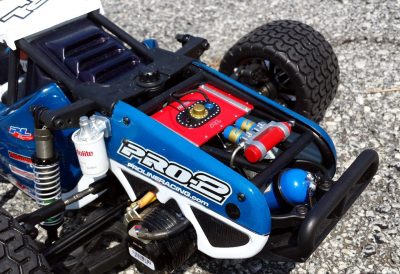 The shocks were set up by cutting a series of internal limiters and bumps stops from plastic tubing once my ride height was determined.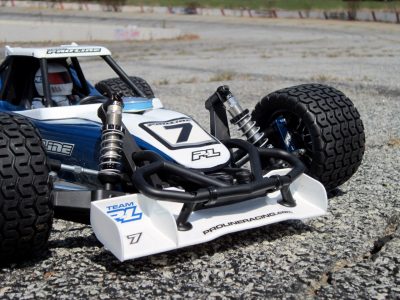 For wheels and tires, the 2737-11 Desperado 2.2" wheels were selected. You can also purchase the black versions which are 2737-03. For tires our older 1050-00 Striker II's were selected from my archive. These have been discontinued but you can still find them floating around out on the old inter web. Other tires like the 1080-00 Speed Hawg and 1060-00 Road Hawg II can also be found and used for the same application.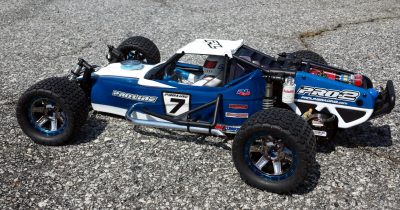 For a more realistic scale look, the Fuel Cell Top, Nitro Bottle and Fuel Pump were used from our 6105-00 Scale Accessory Assortment #8 and the Fire Bottle from our 6075-00 Scale Accessories Assortment #7. Braded lines can be made from Elastic Jewelers cord, solid lines can be easily made from solder or K&S Precision Metals Aluminum tubing. The Engine Air Cleaner, Oil filter / housing and other smaller parts were taken from a Liberty Classics 1:6th scale replica engine.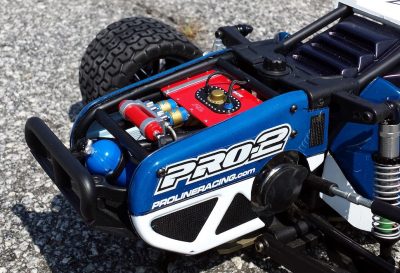 To finish off the look, I crafted a set of side pipes by bending up and polishing 3/8 Brake Line. Using a Double mandrel type hand bender like the 27134 OEM Tubing Bender at Auto Zone can speed up the process, make smoother bends and result in a overall better finished part.
The front bumper was a custom modification by cutting the ¼" below upper half of the top skid plate edge. Next, the front upper part of the bumper was re-bent further downward and then secured to the new leading edge of the front skid plate. A 190mm touring car wing was trimmed and modified to match the offset look of the front suspension. The wing was mounted by recycling the round portion of the mounting legs from the upper part of the trimmed skid plate. I also plan to add our new 6067-01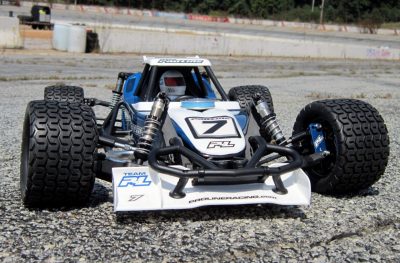 This car is still a "Work In Progress" I plan to improve the exhaust pipe detail by adding bulkhead flanges at the Body exit points as well as other various engine, body and deflector details. I also plan to add our new 6067-01 PRO-2 Aluminum Steering Rack for increased response and precision feel to the steering system
Many thanks to Jim Downing and his staff of Lanier Raceplex (Formerly Lanier Speedway) for allowing us access for the photo shoot! Looking forward to the return of racing there soon!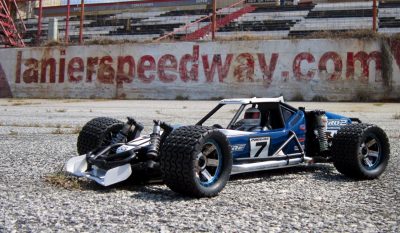 I hope you have enjoyed this article and that it was helpful to you. Please remember, we are here to help with any questions you may have. Feel free to contact us.