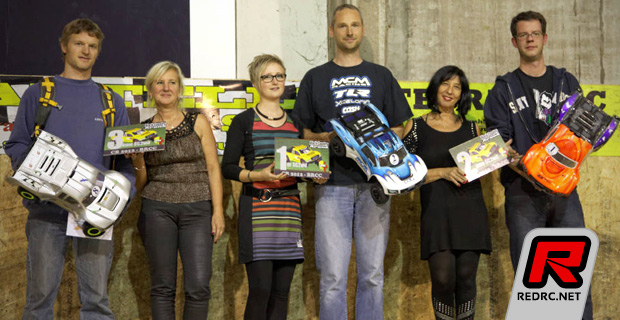 The 6th and final round of the Belgian SCT Cup was run at the Blackcountry Arena astroturf indoor track in Charleroi. Well known from the Euro Indoor Race, the club is used to organise flawless events in his great facility. This year's track layout was both fast and technical, requiring a good rhythm in order to be fast. In the first round of 2WD qualifying Jean-François Renard (TLR) shows his good form by taking the first round ahead of Nicolas Evens (TLR) and Philippe Gustin (Associated). In round number 2 Jean-François and Nicolas swapped positions while Julian André (Associated) took the third spot. Jean-François also took the final round, followed by Edouard-Benoît Michez (Associated) and Julian André. With his two round wins, Jean-François grabbed the overall TQ and also the extra point that goes with it. Nicolas and Edouard-Benoît complete the Top 3 on the A main grid.
The B main saw Nicolas Gandibleu (Associated) confirming his BQ and winning legs 1 and 3. Ronald Dupont (Associated) took second. Stéphane Lecomte (Associated) ended up third with the same number of points as Ronald. In the A finals, Nicolas Evens stole the first 2 legs from Jean-François Renard. Once again their pace was similar but Jean-François experienced some bad luck when lapping slower cars. Coming from 7th on the grid, with a second and a third place finish, Tom Pierard (TLR) grabbed the final podium place making for a clean TLR sweep. Edouard-Benoît ended up fourth and was the first of the rear motor trucks.
2WD A final top 5
Evens Nicolas – TLR – Pro-Line
Renard Jean-François – TLR
Pierard Tom – TLR
Michez Edouard-Benoît – Associated
André Julian – Associated
In the overall championship Nicolas Evens took the 2013 2WD title in front of Jean-François and Edouard-Benoît.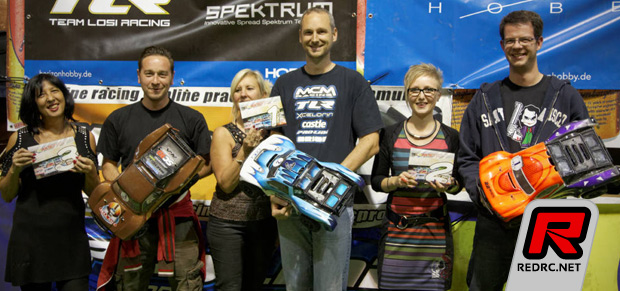 2WD Top 6 overall
Evens Nicolas – TLR – Pro-Line – 502 points
Renard Jean-François – TLR – 491 points
Michez Edouard-Benoît- Associated – 470 points
Vandeginste Cédric – Associated – 466 points
André Julian – Associated – 464 points
De Keersmaecher Philip – Team Durango – 455 points
In 4WD, Raphaël Robert (Hong Nor) won the first two qualifiers and took overall TQ for the mains. Matthieu Carpin (Tekno) followed in second and won the last qualifier as Raphaël had to sit it out. Nicolas Evens (TLR) and Thierry Mathieu (TLR) battled for the third spot on the grid with the better end for Nicolas. Unfortunately for Raphaël, he suffering from electronic issues in all the main legs and was not able to convert his TQ into a win. Thierry was driving fast and consistent and took the first leg win, closely followed by Matthieu and Nicolas. Matthieu then went on to win the second leg, this time under pressure of Nicolas and Thierry. The final would now decide the overall win and the three drivers stayed together very closely and were only separated by 2 seconds in the end. Matthieu experienced a lapping incident and Nicolas took the win ahead of Thierry and Matthieu. As the three drivers had a win and a second place each the tie-breaker would be decided by the best time and this handed Matthieu the overall win followed by Nicolas and Thierry.
4WD A Final
Carpin Matthieu – Tekno
Evens Nicolas – TLR – Pro-Line
Mathieu Thierry – TLR
De Keersmaecker Philip – Team Durango
Gillard Emmanuel – TLR
In the overall championship Raphael Roberts took the 2013 4WD title in front of Nicolas Evens and Thierry Mathieu.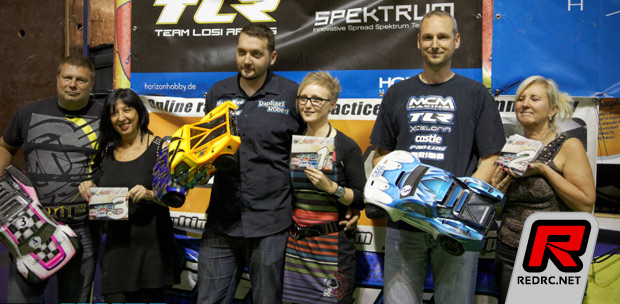 4WD Top 6
Robert Raphael – Hong Nor – Pro-Line – 490 points
Evens Nicolas – TLR – Pro-Line – 484 points
Mathieu Thierry – TLR – 473 points
De Keersmaecker Philip – Team Durango – 467 points
Carpin Matthieu – Tekno – 391 points
Jouret Fabian – Associated – 360 points
Source: Belgian SCT Cup [belgiansctcup.be]