Source: rcsoup.com
In the past 6 months or so I have grown increasingly frustrated with my method of transporting pit gear to the track. Usually I used the Stanley FatMax rolling tool box. It held everything and was pretty sturdy, but being basically 3 toolboxes cantilevered together, it takes up a massive amount of floor space when you open it. Not to mention room in the car. It's fine when you are racing outdoors and space doesn't matter.. but at an indoor facility with not a lot of room, you tend to get in people's way. I went from that, to a rolling tote, to a regular tote you carry, to this, the Pro-Line Track Bag. I also have a fabric full-on r/c pit box with wheels. They each have their pros/cons. We'll talk about this one specifically today.
This is the Pro-Line Track Bag (6058-02). The bag features luggage quality zippers and material that displays your support with a huge P-L logo. The bag is supported by an inner corrugated plastic housing that protects your stuff and holds the bags shape. This multi-purpose bag will hold a bunch of tires, tools, chargers, batteries or basically anything you need to take you to the track, all while still being small enough to easily fit in the trunk of your car. The Track Bag features a 13 slot Tool Pouch and 3 see through mesh pouches for any extra tools, glue or hardware that you need while at the track. Pro-Line's Track Bag has an adjustable shoulder strap for easy transport and a completely open top for easy access to your stuff.
Pro-Line's product description is pretty accurate (above). The bag isn't enormous, but it looked like it would fit a decent amount of stuff. Here is how it arrived. It ships flat to save space.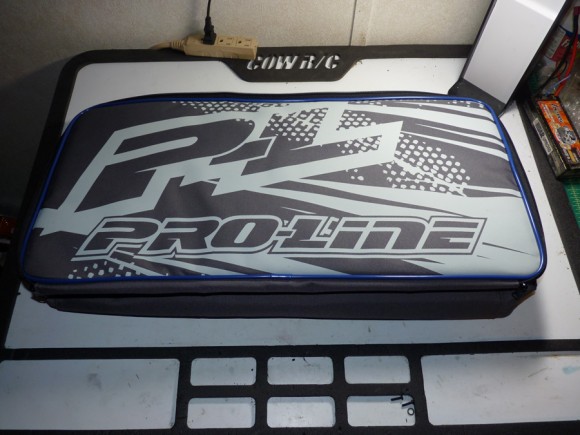 Open the top flap and you can see it's folded over itself.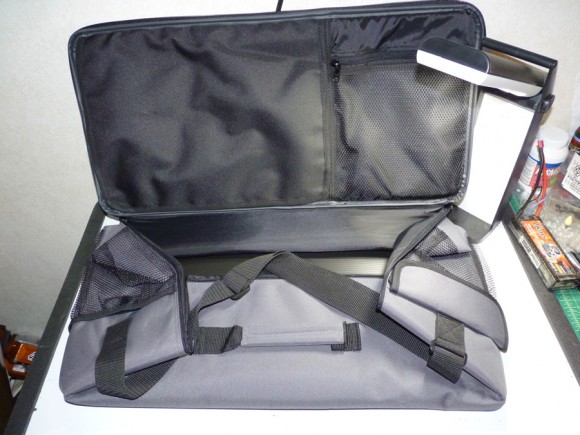 Inside are the corrugated plastic walls, shrink wrapped for shipping.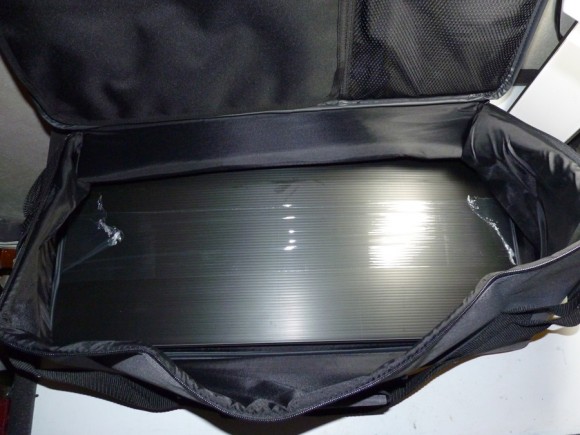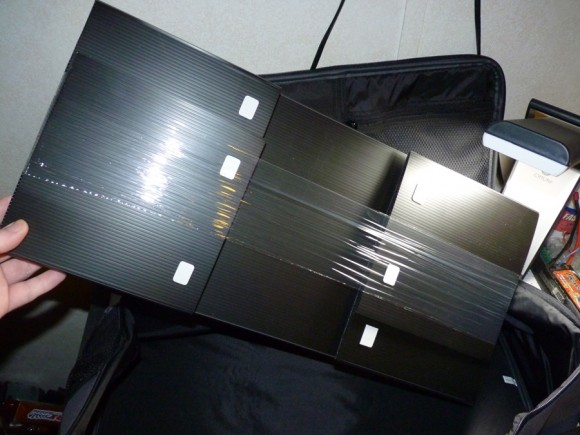 There are no directions, but it's simple enough to figure out. The whole inside is one big die cut piece that is scored for folding. It doesn't say anywhere which way is inside, so I had to fiddle with it for a few seconds. I looked at the product release picture on their website to see that the large sides go on the outside of the small end flaps. The picture below is opposite of what you want.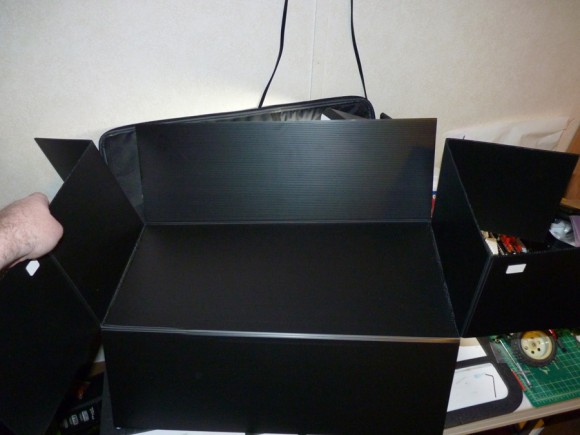 This is how it should go together. Notice the Large flaps are on the outside. Those white dots on the small flaps are pieces of double sided tape.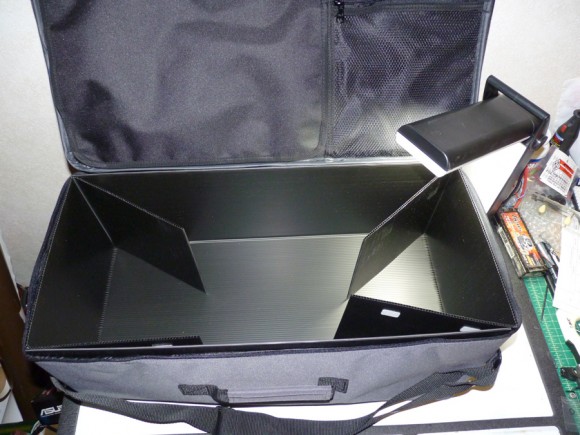 The strips of tape will secure the inner flaps to the outer ones and keep the shape of the liner.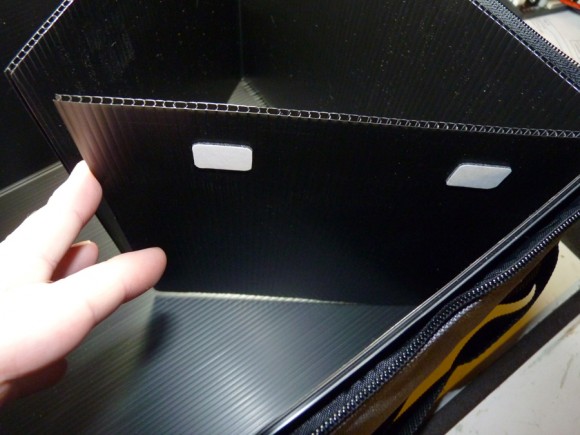 Now we have a completed compartment in the bottom of the pit bag. It feels pretty secure and should support the weight of most r/c items you could fit in here.
Under the top of the bag is a covered tool organizer. This can be used to store all of your hex and nut drivers to work on your car.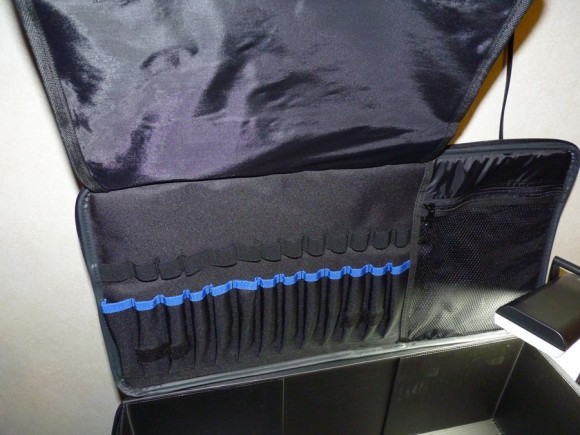 It also has a zippered mesh compartment for storing other items.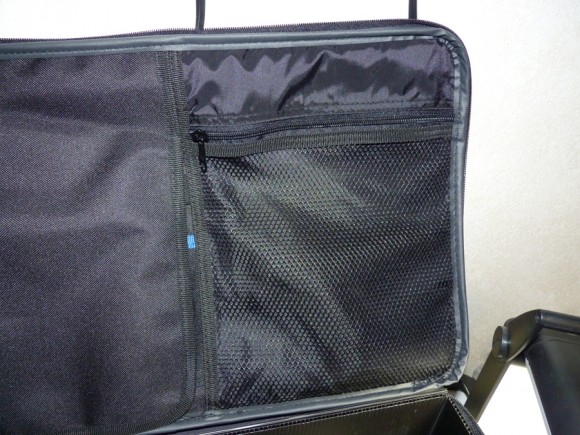 This is technically the way it gets carried from the handle, which I found odd at first. If you fill it with the compartment bottom on the table (like pics above), then when you flip the bag on it's side to carry it.. everything will get shuffled around. We'll talk more about this in a minute.
So what can we fit in here you ask? Well to give you perspective, here is a 1/10 Carpet Oval car (My Pemberton Raceworks SJ-10 Chief). It's got room on the sides and you could easily stack at least 2 of these cars in here. I wouldn't recommend it though unless you pad it somehow (pit towel?). I just dropped it in there for the photo.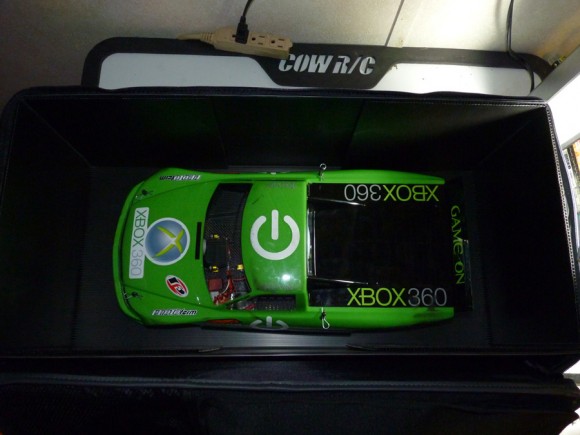 Here's an example of how I packed mine for a trip to the track. I'll even go in order. Obviously I started with the bigger items and built up until I had no more room. I started with my RC Trim Hardware Briefcase (a neat little organizer I picked up for hardware, etc).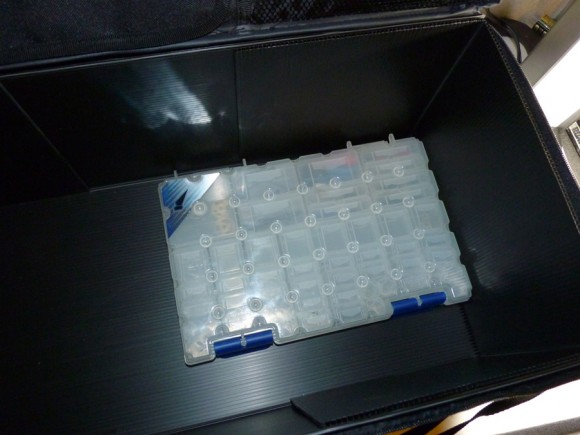 I then put in my ProTek Super Pro 20 Power Supply.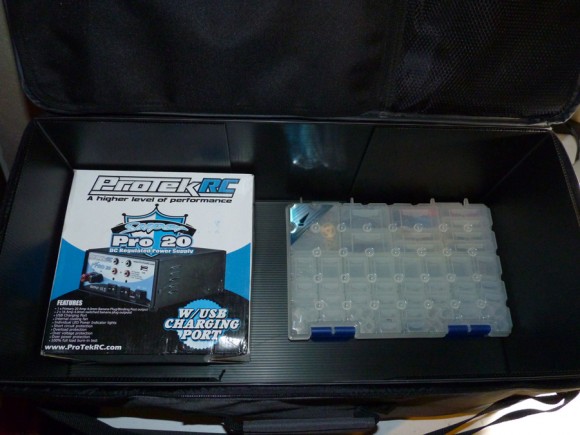 Then the Revolectrix Power Lab 6 in it's own case.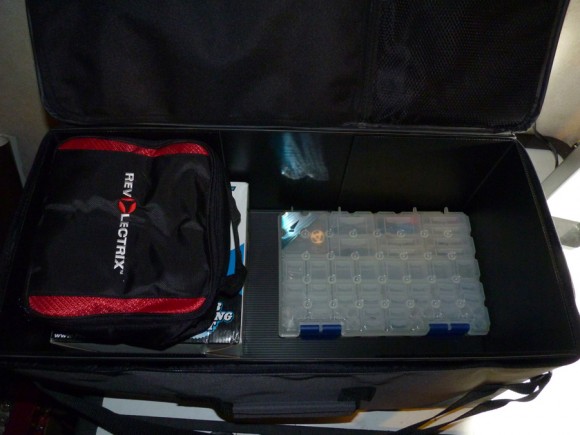 Some traction sauce (tops facing handle of bag, so when carried they are right-side-up), some tools, a power strip..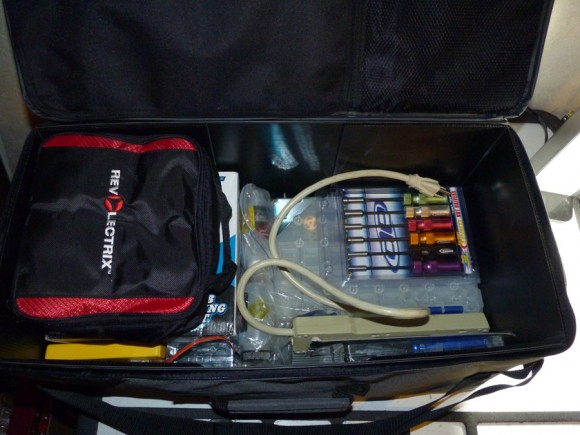 Some misc parts and extra CRC pinions. I also put a couple things in the mesh compartment (not sure if scissors are a bright idea as they could poke thru and ruin the mesh – so far it's been ok)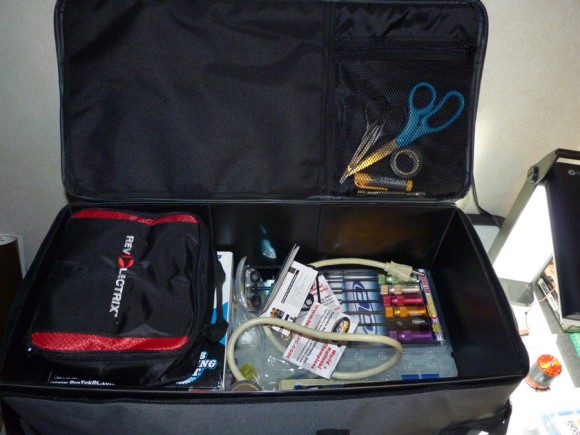 Lastly, a Lipo Sack and batteries. As you can see, the bag is pretty well packed. This doesn't allow for much shuffling of stuff in the bag as you move it around, and has worked well for me. You can imagine that if you only filled it 1/2 full, that stuff would bounce all over in it. The same could be said for any tote or transportation method though.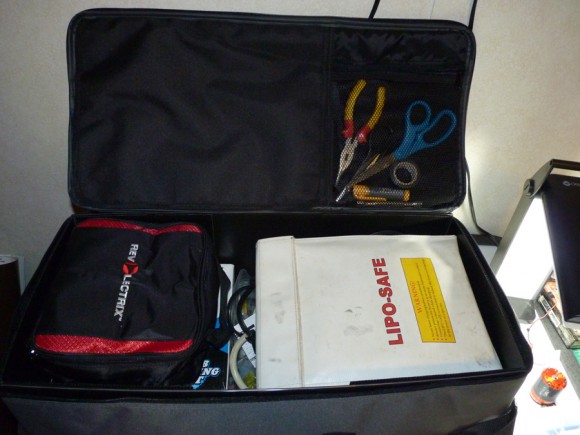 Now for the review portion of the article.
So, what do I have to say about the bag? Well, it's pretty cool. So far I've been the only one at the local tracks with one that I have seen. I've taken it to Motorama, the Meltdown, the Hillbilly Hoedown, and a number of club races in-between. It has not failed at it's purpose, and looks good doing it. The track bag keeps my gear safe and mostly organized.
It however is on the smaller side (in comparison to the FatMax or rolling pit bags) so I mostly take this when I am running only 1 class and want to pack light. For outdoor, when I might need more support gear, I might use this in conjunction with one of the other bags to hold more. Honestly though, I might not even need to. I've been ok at the track without having to bring a ton of spares or bigger tools for the most part.
The construction is pretty sturdy, and I like that it has solid walls. It makes the bag keep its shape and provides rigidity. It is well built, with a quality zipper (very important). It's basically like a small suitcase. I didn't touch on it above but there are also 2 exterior mesh pockets (one with a flap and one without – both close with velcro). I wish they both had flaps though, as I could see stuff falling out of the one. I use the exterior pockets for smaller items I may need readily and not have to open the bag (like a body reamer (enclosed type – no exposed tip), temp gauge, etc). The other pocket I usually keep RC Soup stickers in for when I have some to give away.
With as much stuff as I have been loading the bag up with, I honestly expected to have ripped the handle or carry strap off by now. So far they are holding up. I do need to lighten the amount of stuff in there though, as I suspect if  I don't it may cause failure in the future. The addition of a nice shoulder pad (like on most laptop messenger bags) would be cool. It would likely also add cost, so I'm not sure if it would be a worth-while addition. The strap that comes on it is pretty wide and doesn't make even heavy loads that unbearable to carry across a large parking lot.
Below are more recent photos than above. The Track Bag has seen a few races, and stuff isn't as organized as it was.. but this is literally how it came home after the last event.
I have since filled my Tool Holder on the bag with all of my MIP hex drivers and Factory Team nut drivers. It's awesome not having to dig for them in the bottom of the bag.
So.. bottom line..
| | |
| --- | --- |
| Value | At just under $60 retail (at the time of this writing), this bag is competitively priced with other medium, non-rolling sized pit/tool bags. It has a built in tool organizer and extra pouches that others near this price point do not have. |
| Appearance | The giant Pro-Line logo design on the bag is very nicely designed. The neutral grey and black colors on the bag are very tasteful and not too "Hey look at me!". |
| Performance | The bag served it's purpose, which is to get stuff from my house to the track safely, and without damage. I do wish the 2nd pocket on the side had the overhanging flap the other side does to better prevent stuff from falling out. |
| Durability | It has survived riding hours in the back of the car amidst other r/c items. As mentioned earlier, it is pretty heavy duty (luggage-like) constructed, so it should last a while. The straps seem pretty sturdy, but I'd be careful not to overload the bag. |
| Would I buy again? | I'd say yes. It's the perfect size for packing for club racing, and well made at a decent price. |
Overall I give the Pro-Line Track Bag w/ Tool Holder a 4 out of 5 Spoons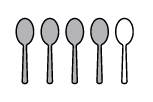 It is a versatile bag, that has hauled my r/c basics to the track on several occasions over the last couple months without fail. It's roomy enough to fit your basic tool set, charger, batteries, and some spares so it is perfect for those days you just want to pack light and head to the track. Can you fit everything most racers have in here? No. At least I can't.. Soldering iron, cordless driver, Dremel tool, spare parts, pit towel, car stand, etc etc. That really isn't what this is aimed at though either. Overall, it's a good looking medium sized pit bag that is well built from quality materials, and at an affordable price point.